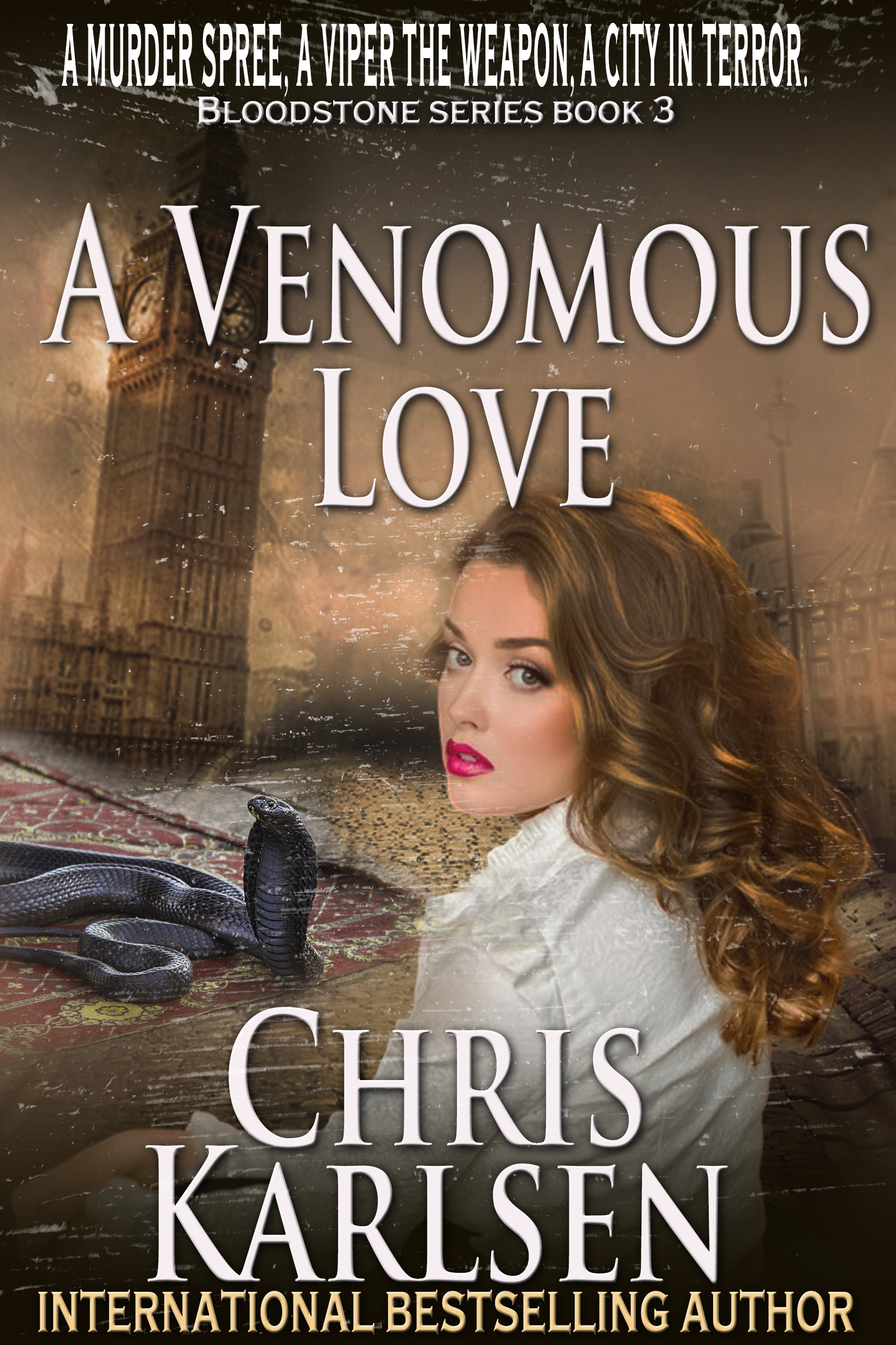 Book 3 of the Bloodstone Series
Historical Suspense/Thriller
Date Published: February 28, 2020
Publisher: Books to Go Now
The killer whispered-"A pretty damsel...worth a pretty risk."

A veteran, Detective Rudyard Bloodstone has fought a brutal battle and witnessed war horrors that haunt his nightmares. Now one of those horrors has followed him home from Africa.

A vicious predator, the Cape cobra, can kill a man in thirty minutes. A suspect using the snake as a weapon in robberies is terrorizing London.

When the crimes escalate into murder, a victim's daughter, Honoria Underhill, becomes the focus of the killer. After several attempts on her life, Scotland Yard threatens to take over the high profile case. With few leads to follow, Bloodstone and his partner must now fight department politics and catch the killer before Underhill becomes another murder victim.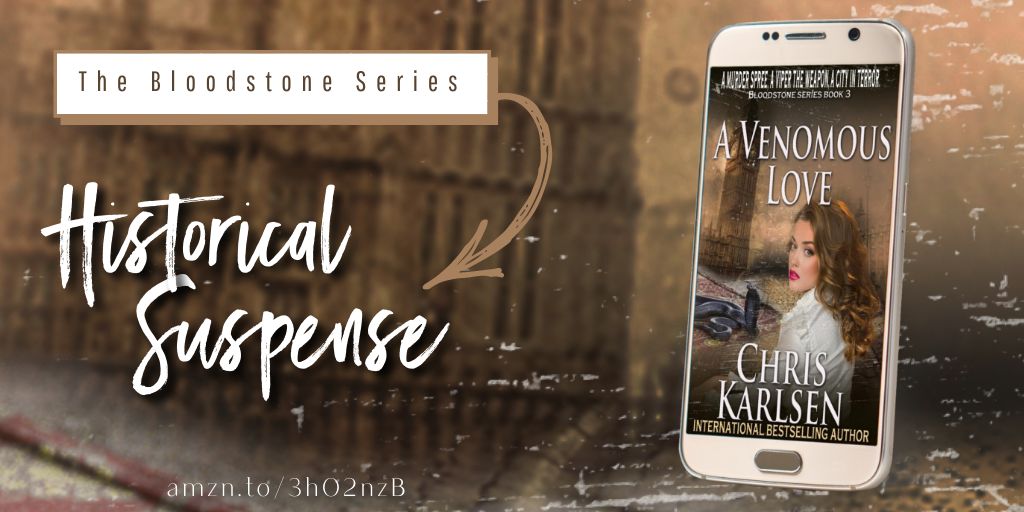 Read an Excerpt
"We have an unusual robbery case where the suspect threatened the victims with a snake," Ruddy explained. "We thought perhaps you're missing one of the snakes from your reptile house, a cape cobra to be exact."
His eyes widened. "A Cape cobra, the African snake? You're certain?"
"Yes. The female victim is from the Durban area and familiar with them," Ruddy said.
Packwood reached for the pipe in the desk ashtray and lit it. The scent of cherry tobacco filled the air. Raising his hand to light the pipe revealed C.D.P monogramed on his shirt cuff in pale blue. No garters or cuff protection needed.
After several puffs on his pipe, the director said, "We have a pair of alligators, several species of lizards, and turtles but no snakes at the moment. We only ever had one, a king cobra. It came from a Maharajah as a gift for the Queen. A snake from the hot subcontinent, it died in that terribly cold winter we had two years ago. No surprise."
"Do you know of anyone who traffics in selling exotic pets?" Archie asked.
"I can think of three in the city. I can't speak for outside London. The most active trafficker is Duff Dunbar. Duff's what he goes by but I don't know his Christian name. Then there's Felix Lennon although I've never heard of him dealing with reptiles. He sells the big cats or their cubs for the gentry to show off on their country estates. Silly practice. The animals never live long. None of those people know how to take care of them. Sweet little cubs turn into four-hundred pound meat eaters."
Both Archie and Ruddy took notes as Packwood took a few more puffs.
Packwood continued, "The third is a fellow I only know as Teddy, the badger man. I heard he got the name because he had a pet badger he took everywhere. Scuttlebutt from my keepers is he died."
"Can you tell us anything else that might help us locate these men? Have you seen them and can by chance describe them?" Ruddy asked. If so, he'd get his sketch pad and come right back.
"Sorry, no. I've never met any of the traffickers personally."
Ruddy wondered why Packwood never encountered a trafficker. The zoo seemed a natural client for them.
Archie beat him to the obvious questions. "Haven't any of them tried to sell the zoo an animal?"
"No. It's my policy to not deal with them and they know through word-of-mouth not to bother."
"Why not? You have animals that die and need replaced, like the zebra last fall," Archie asked, remembering the death had made the news.
"How the animal being offered was handled in transport is always suspect, which makes their good health doubtful. Our acquisitions are made through reliable sources or from reliable source breeding pairs."
"Or ones that come as gifts to the Queen," Ruddy added.
"One does what one must for the monarchy," Packwood said with a resigned shrug.
If Packwood got his information from worker scuttlebutt, Ruddy guessed some of them had contact with traffickers. "What about your staffers who tend to the animals? Might there be some who know or have seen a trafficker?"
"I don't know. I'll ask at shift change when the most men are available. Now that I think about it, I recall hearing awhile back that if you go to Petticoat Lane on Sundays and ask for Duff, many of the vendors know him. If you manage to find one trafficker, he'll likely lead you to the others. I imagine these types all know each other."
Petticoat Lane...it figures, Ruddy thought. The place was a hotbed of shady vendors selling stolen wares.
"Even if we don't have luck locating this Duff, someone there probably knows one or both of the others," Archie said.
"Anyone who desires something not available through regular means, can discover a man or woman there with other means to find it." Ruddy put away his notebook and stood. "You've been a great help, we appreciate it."
Packwood and Archie rose too.
"I don't know that my meager information is going to be all that much help to you, but I hope so," Packwood said and shook hands with Ruddy and Archie.
"Whether we find a connection to the traders at Petticoat Lane or not, you eliminated the zoo as a source of the animal," Ruddy assured the director. "And we have a start with the names of three possible suspects. It's a good day for us, sir."
About the Author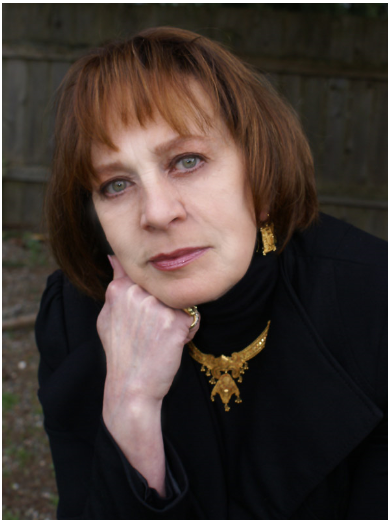 I was raised in Chicago. My father, a history professor, and my mother, a voracious reader passed on a love of history and books along with a love of travel.
I am a retired police detective. After twenty-five years in law enforcement I decided to pursue my dream of writing. I write a historical-time travel romance series called Knights in Time and a historical suspense called The Bloodstone Series.
I am also working on a world war two series of novella romances. The first is Moonlight Serenade and currently available. The second is my work in progress at the moment and will be titled, The Ack-Ack Girl.
Contact Links
Purchase Links
a Rafflecopter giveaway