Mystery-thriller and romantic suspense
Date Published: 03-31-2018
A beach wedding, with a hidden explosive device waiting to murder the newlyweds.
A kidnapped teenaged girl, strapped with an IED vest that turns her into a suicide bomber.
A former Marine and his girlfriend, along with their trained K-9, who volunteer to hunt for the bomb-maker...
There is trouble in paradise at Margaritaville Resort, where Jake and Sarah try moving in and living together for the first time to see how it goes. Suddenly they have far more than just their progressing relationship on the line. Now their very lives are at stake.
When a murderer begins threatening his friends, Jake vows to hunt him down and stop his crime spree. He and his former war dog, Cody, are soon following the twisted trail of an elusive bomb-maker whose explosive devices are wreaking havoc among the Florida Keys residents and tourists.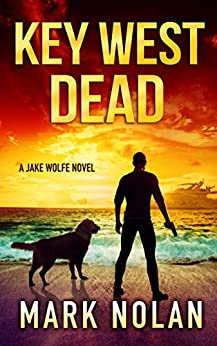 The killer is not amused by their interference in his plans, and he soon adds Jake, Sarah, and Cody to his list of targets.
With the islands under constant attack and everybody a suspect, the chase is on in a race against time, as the clock keeps ticking down toward a final heart-stopping confrontation that will bring the trio of Jake, Sarah and Cody face-to-face with death.
Will Cody's trained nose be able to hunt down the criminal in time, so Jake can stop his bombing spree before he detonates "the big one?" And will Jake and Sarah's relationship survive their life-threatening ordeal so they can sail away together to sunny islands? Read Key West Dead to find out what happens next.
my review
This is not a review tour but...I have read each and every Jake Worlfe novel and I have reviewed them. I could not help adding my earlier review because...everyone of these books are worth reading!
Reviewed May 2021...
I am once again going to say that so many people have loved this book and this series that I'm sure I can't say anything new. However, that doesn't stop me from feeling the same way about the series and about Key West Dead. Jake and Cody are here and now Sarah his veterinarian girlfriend is ensconced right on the yacht with them. I was so jealous I could hardly stand it. A wonderful dog, a handsome guy, and a yacht. Geez. But in this story, there is a lot of action and some awfully hard times for all of them. This is exciting and a cliffhanger. I spent most of my time sitting on the edge of my seat, reading as fast as I could. This book in the series might be my very "favoritest". Is that a word? Probably not. I've been known to make them up:)
I want to make a comparison here but want to make it 100% clear that Mark Nolan is his own person, and he has his own writing style. But...he is in the class with Robert Parker and John D. MacDonald. Mark Nolan does not write like either of them. He writes like Mark Nolan. But all three authors have a common denominator, a charismatic character. His books are mysteries and full of suspense and yet somehow just as MacDonald and Parker did, there is a certain amount of charm mixed in. Some mix of words that makes the whole story flow. A lot of suspense mixed with a little bit of humor keeping us holding our breath or laughing out loud. I think this is because these three authors knew how to craft and create good characters. Those we fall in love with and hope every time they will be ok. Like living in a movie inside a book.
Don't miss any of this series. Each book will stand alone but just take my word for it. You need to read them all.
About the Author
Mark Nolan is the Amazon Bestselling Author of the Jake Wolfe Series. Subscribe to his reader newsletter at marknolan.com for updates, specials, giveaways, and news.
Contact Links
Purchase Link