The Lost and Found Pets Mysteries, Book #1
Cozy Mystery
Date Published: December 1, 2016
The Lost Great Dane is the first novella in the Lost and Found Pets series. Alexandra Prescott is a licensed private investigator specializing in finding missing animals. Reuniting pet and owner is more than just a job
While looking for a lost cat, Alex finds a weak and injured Great Dane. The dog has no collar, no tags, and no microchip. And the only person looking for him is a man who might have murdered his own wife.
Within 24 hours, Alex has a hunted dog, a cryptic message, and a hitman after her. She realizes the only way out of this mess is to solve the mystery of the lost Great Dane.
My Review...
Cute cozy involving lost pets and a pet investigator. This much would have already caused me to pick up the book...or download it for that matter. It had all of what I call the "elements" of a cozy, mystery, romance, and a little humor. It was a quick read and one I thoroughly enjoyed.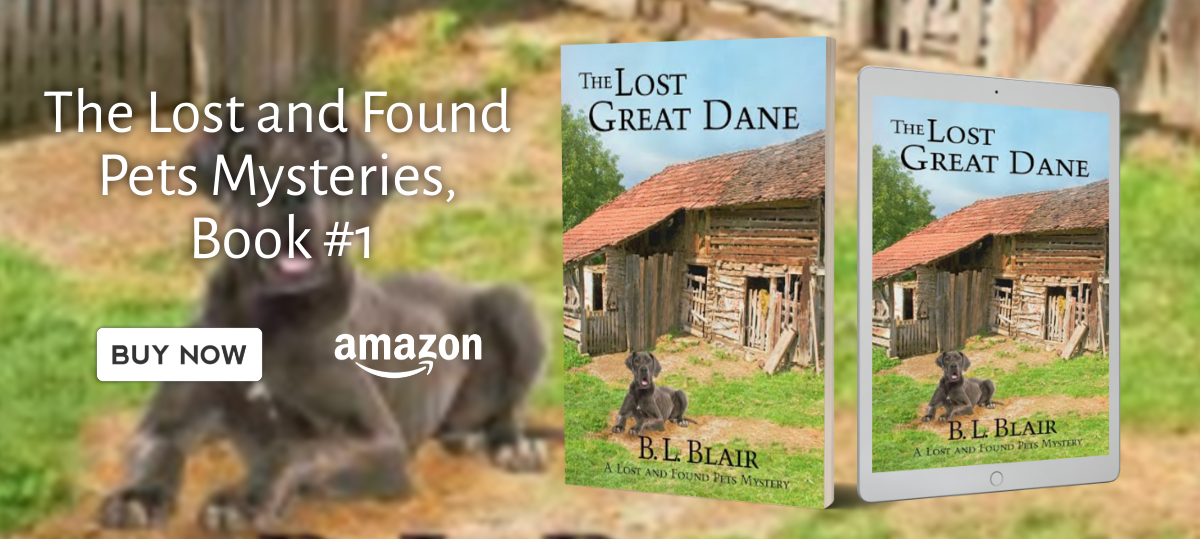 About the Author
B. L. Blair writes mystery/romance stories. Like most authors, she has been writing most of her life and has dozens of books started. She just needs the time to finish them.
She is the author of the Leah Norwood Mysteries and the Lost and Found Pets Mystery Novellas. She loves reading books, writing books, and traveling wherever and as often as time and money allows. She is currently working on her latest book set in Texas, where she lives with her family.
Contact Links
Purchase Link