A Simpleton's Guide to the Street's Wicked Ways
Nonfiction / Finance / Social Science
Date Published: January 4, 2022
Publisher: ‎ Lulu.com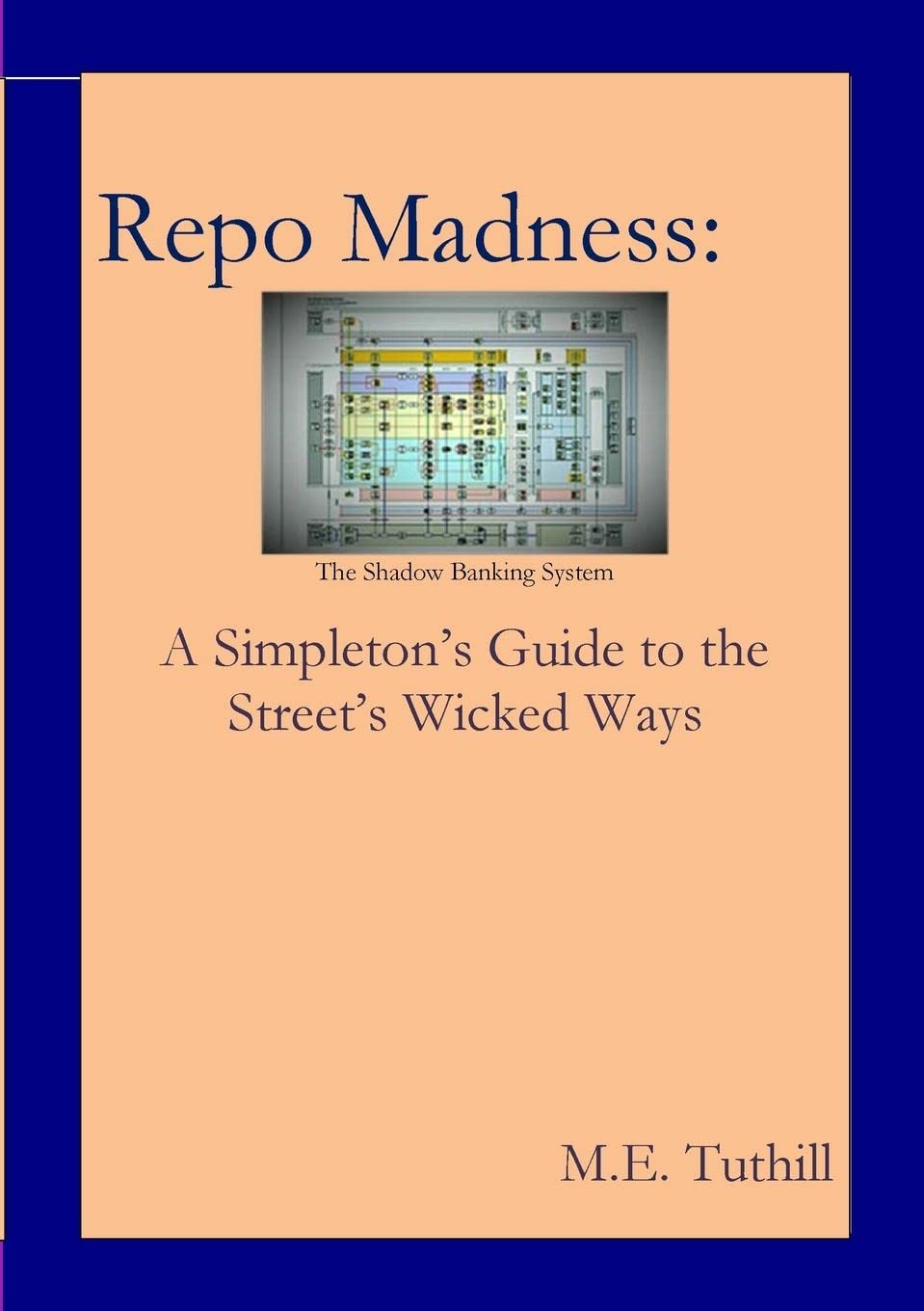 Our monetary system is insane! That's the premise of Repo Madness, a book not meant for scholars, analysts but for you, the person who has been kept in the dark about the shadow banking system. Understandable and informative, this book is also irreverent, never missing an opportunity to underscore the absurdity of it all. You will learn how shadow banking evolved into what it is today, an out-of-control massive system that sucks the lifeblood out of our economy. You will bear witness to participants who in rare moments of candor admit the system is broken and comes at great cost. Years of research have resulted in the most compelling evidence you will find anywhere that the shadow banking system does not benefit society. Solutions of comparable size and scope are out there! Remedies that empower all of us in determining our financial lives and in turn, serve the greater good.
About the Author
M.E. Tuthill was born and raised outside of Boston, Massachusetts. A graduate of Boston College with a BA in American History she went on to earn two master's degrees, an MA from the University of Maryland in American Studies and an MS from Syracuse University in Communications. A self-described "perpetual student," she worked for ten years as a radio news anchor and reporter. Family obligations precluded her moving to advance her career. It was time for a change.
For the next 13 years she would work as a financial advisor also penning a financial planning column for the local paper. Eventually the rough and tumble of the securities business took its toll and she embarked on a third career as a full-time financial writer. Her employer was iMoneyNet, the go-to place for money-market mutual fund data. Over 11 years she wrote hundreds of stories for the firm's flagship publication, "Money Fund Report." She also wrote for other publications, all related to money market funds.
Hired in 2006, initially the work was uninspiring. What can you say about money-market mutual funds? Then came the financial crisis and everything changed. What had been a job writing about sleepy money-market funds turned into a journey deep into the recesses of shadow banking. For money-market funds played an integral role in the financial meltdown that dwarfed all others.
Tuthill was hooked. She wanted to learn everything about shadow banking and as the days, weeks, months, and years passed, amassed hundreds of articles, scholarly papers, marketing material from the banks and government reports. Laid off in 2017, Tuthill found herself with boxes and boxes of material. Her first task was to organize it by subject. Then, she continued to pursue her research. The result is "Repo-Madness: A Simpleton's Guide to the Street's Wicked Ways."
In addition to her writing experience, Tuthill is also a poet. Authoring a book titled, "The Linen Man & Other Poems."
Recently, Tuthill left her home state of Massachusetts, moving over the border, she now resides in South Windsor, Connecticut.
Purchase Links