Historical Romance, Regency Romance, Steamy and Sweet romances
Published Date: E-Book releases October 18, 2022
Publisher: WOLF Publishing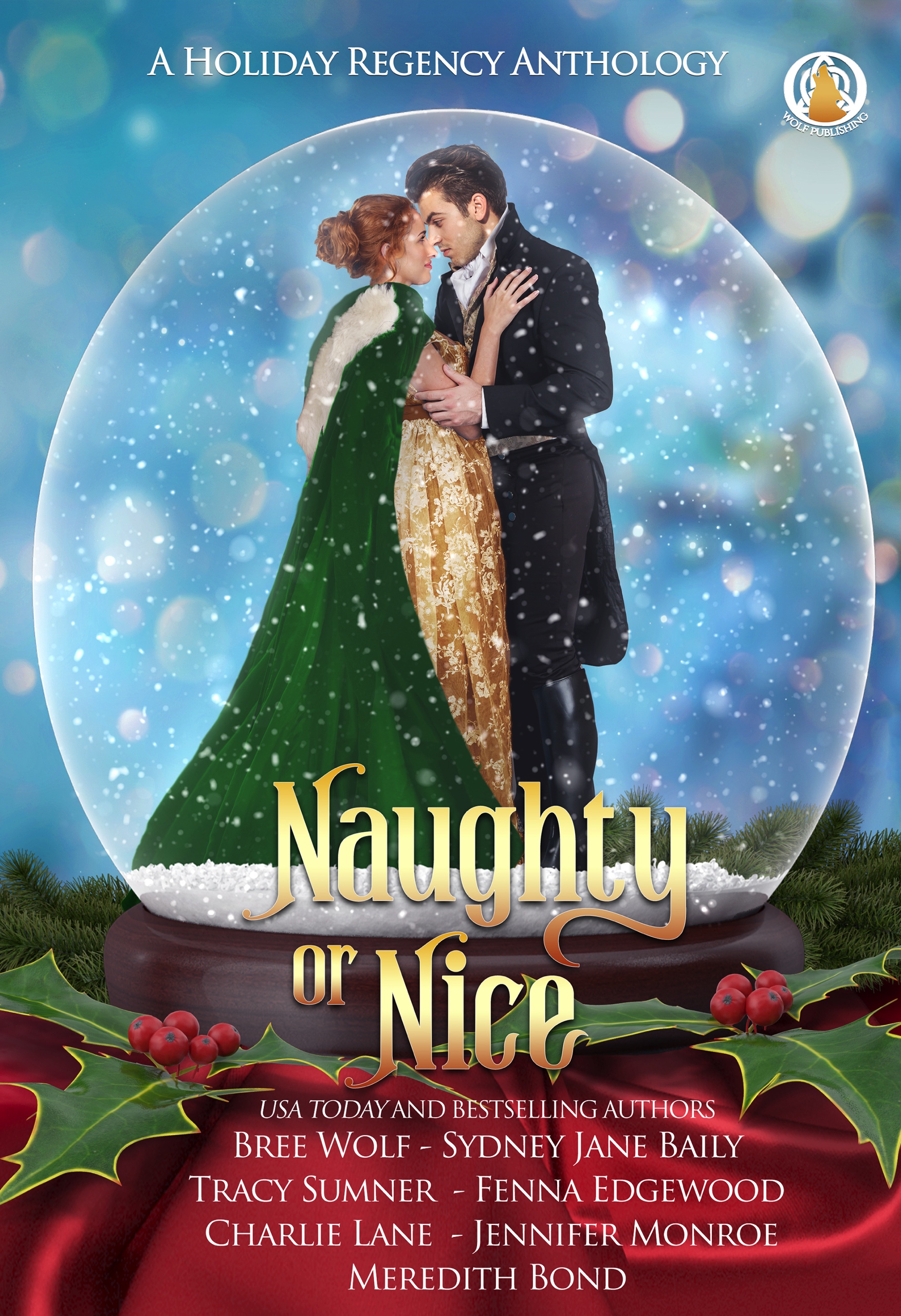 This wintery holiday collection of seven never before published Regency romances by seven of your favorite historical romance authors will bring you dreamy gentlemen and fierce ladies that share swoon-worthy kisses, heart-pounding nights, and magical happily-ever-afters.
On WOLF Publishing's Naughty or Nice list, you'll find captivatingly sweet tales that melt your heart as well as sizzling romances that heat up your nights!
Find out who's been naughty and who's been nice this year, in...
Bree Wolf's: Once Upon an Aggravatingly Heroic Kiss
Once upon a time, our beloved Grandma Edie began her career as the best matchmaker in known history by using her extraordinary talent to bring about her own happily-ever-after...
Determined to perform a Christmas miracle by seeing her friend wed to the man she loves, Edith finds herself distracted from her task by a teasing gentleman with wicked eyes and a devilish smile.
Sydney Jane Baily's: A Diamond for Christmas
In a Regency Romeo and Juliet, heady desire blossoms between a lord and a lady from warring families.
Lord Geoffrey Diamond is the heir to an earldom with dash-fire to spare. There is no lady in London he ought not to be able to woo and win. Except one. Lady Caroline is vexed to learn the only man who makes her tingle is prohibited. Forbidden even to dance with Diamond, she finds herself breaking all the rules in order to follow her heart.
When they take a desperate chance on happiness, will it lead to a Christmas miracle or a Christmas calamity?
Tracy Sumner's: The Governess Gamble
He's a devil of a rake. Can an accidental governess teach him life's most important lesson?
To repair her scandalous reputation, American heiress Franny Shaw flees to London in search of a desperate nobleman with a title for sale. An impulsive decision places her in the path of lonely libertine, Chance Allerton, at Christmastide. Can a make-believe governess teach a wicked viscount a sizzling lesson in love or will it take a holiday miracle?
Fenna Edgewood's: The Countess's Christmas Groom
She is his ideal match. The woman he has been waiting for all of his life. The only problem? He's her servant.
This Christmas, two very unlikely individuals are about to realize they are one another's ideal match. And once mutual desire has been sparked, they will never be parted, no matter the price they must face.
Charlie Lane's: A Very Daring Christmas
Christmas is the most daring time of the year.
Crowded London streets, eccentric shop keeps, violent-minded maids, and chaotic coffeehouses. A daring but reluctant debutant and the steward who adores her will brave it all to find the elusive perfect gift that could win their hearts desires.
Jennifer Monroe's: Gentleman of Christmas Past
A lady determined to find love. A gentleman wanting her hand in marriage. A Christmas story you will never forget.
Miss Agnes Fitzimmons and Mr. Phillip Rutley each have a Christmas wish—to marry one another. Yet with financial burdens threatening to keep them apart, it will take a Christmas miracle to have the happily ever after they deserve.
Meredith Bond's: Christmas Intrigue
Can the joy of Christmas, and a beautiful woman, distract him from his duty?
Is it a recipe for disaster? Not even close. Whether Markgraf Alexander Kottenfurst thinks the spirited Prudence Torrington is naughty or nice will determine if this Christmas intrigue will lead to something wonderful.
Authors
Bree Wolf, Sydney Jane Baily, Tracy Sumner, Fenna Edgewood, Charlie Lane, Jennifer Monroe, Meredith Bond
Contact Links
Preorder Links