Romance
Date Published: March 14, 2023
Publisher: Dragonbooks Publishing House
There's a serial killer on the loose in Independence Junction – or is there? It might just take a furry little rat to sniff out the truth. Missed opportunities and nefarious dealings abound in the fifth book of the Rocky Mountain Romances series.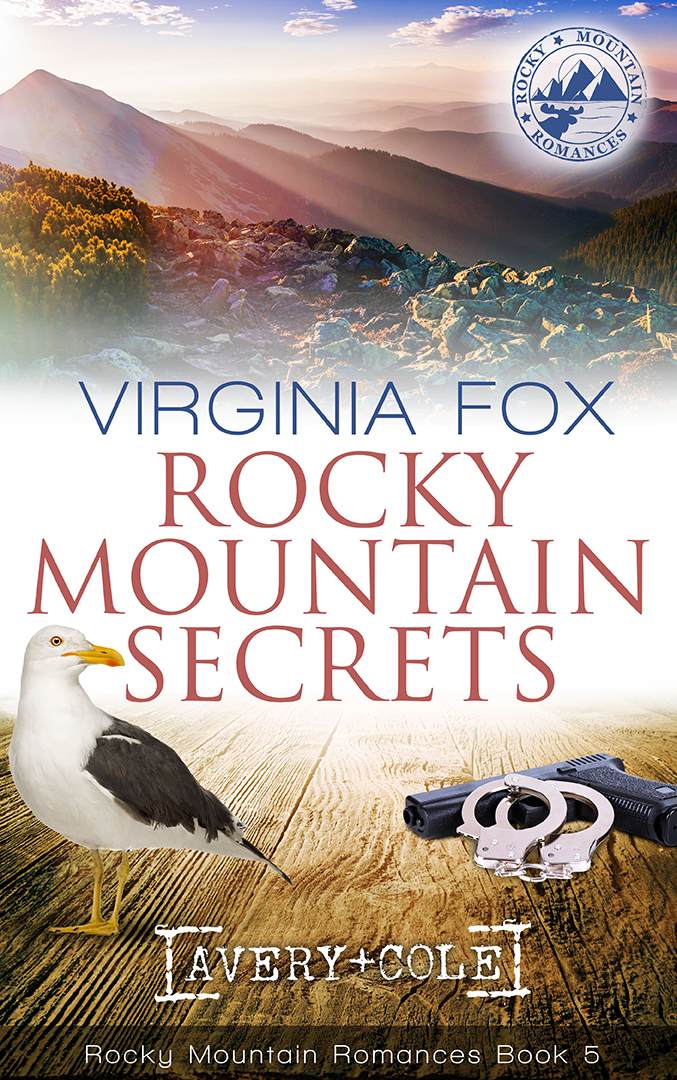 Meet FBI agent Avery Wilkinson. She leads a hectic life, but fortunately has an adorable pet rat as a partner – the aptly-named Miss Marple – who has an uncanny nose that comes in handy. Will the rodent's sniffer help solve the case when a serial killer seemingly terrorizes the residents of sleepy Independence Junction?
Avery gets assigned the case with hunky agent Cole Carter. Maybe the assignment will give them the chance to admit their true feelings? Or will the fact that Cole is Avery's brother's best friend get in the way? Or maybe it's the murder and mayhem that sidetracks their love affair?
Things get complicated as the suspicious Monsanto family become suspects. Will Avery and Cole finally be able to put them away? What about Nate and Paula's wedding? Will it go off without a hitch or is it doomed to become a twisted casualty, too? It all might hinge on a rat named Miss Marple.
With a cast of unforgettable Rocky Mountain Romances regulars returning, and many new faces to get to know, Rocky Mountain Secrets is a fast-paced, charmer in Virginia Fox's well-loved and endearing series.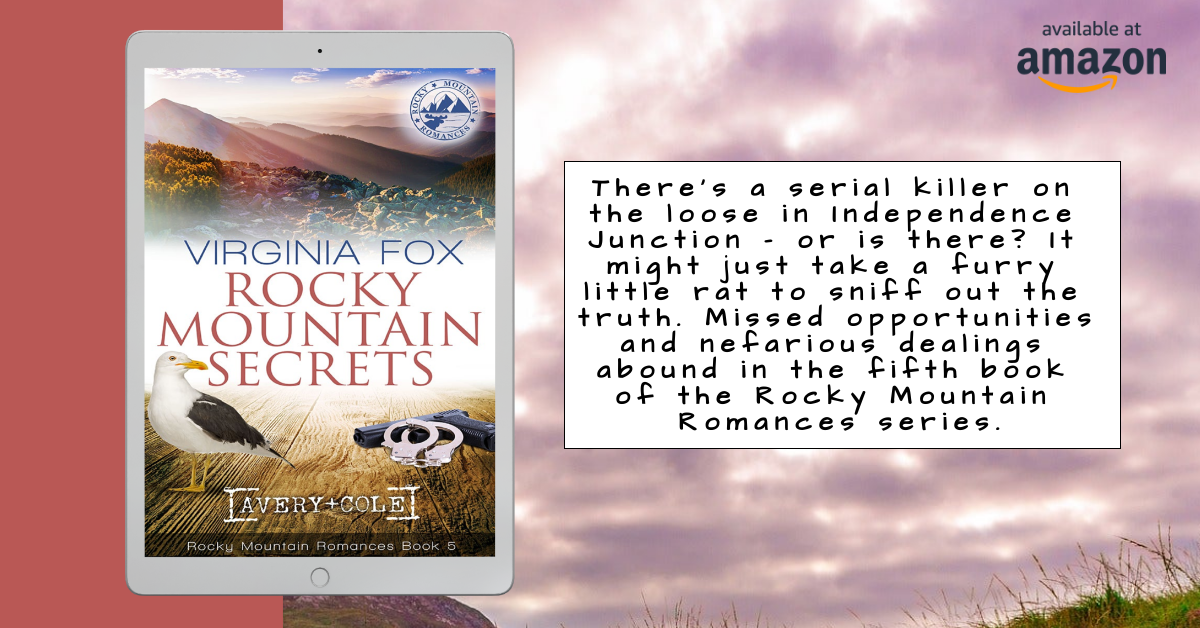 READ AN EXCERPT BELOW
Contact Links
Purchase Link
a Rafflecopter giveaway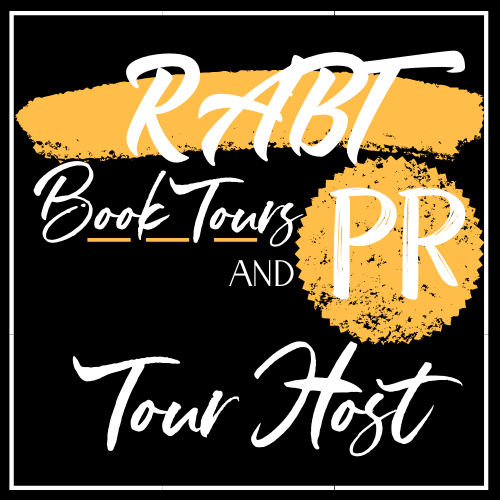 Rocky Mountain Secrets Excerpt...
Avery Wilkinson stepped from one foot to the other, seemingly bored. She'd worked undercover for five months, which felt like an eternity. Sometimes, she had trouble remembering where fiction ended and reality began. She scratched the right side of her half-shaved head. Her long black hair fell smoothly down her left shoulder. Her hair had been cut in irregular steps with tips dyed bright red. Black kohl framed her eyes. Her flawless skin and slender, boyish physique took years off her and no one suspected anything amiss. Each element helped to create her cover as a youthful punk rocker. Even with all that hard work though, she'd soon be too old to pass. She raised her arm and the rivets on her black leather jacket clinked. The clinks signaled Miss Marple, her companion rat, who lived inside Avery's jacket. Like Avery, Miss Marple worked for the U.S. Drug Enforcement Administration. She stuck out her nose and blinked her black beady eyes. Avery stroked her head and fed her a sunflower seed from the bag in her pocket. "Go on. Go back inside. It's not time yet." The rat grabbed the seed and disappeared back into the jacket pocket. Over the past few months, Avery had infiltrated the Monsanto clan, a family loosely tied to the Mafia.
Despite the work of two previous teams, the DEA had zero proof of any illegal activities. Avery was brought in because she specialized in money laundering and drugs. She brought along a very special partner; Miss Marple was trained like a drugsniffing dog, only better because she was so little. She could be snuck in places a big dog couldn't normally go. Well trained, excluding "sit", "down", and "heel", she had naturally impeccable manners. Born in the Netherlands, she'd been kicked out of the police force's test program because her success rate was too low. Avery suspected the problem was more that Miss Marple was very sensitive and, unlike many of her peers, enjoyed human contact. If she was locked up and brought out only for training, she shut down. It took a good deal of TLC and Miss Marple had to trust you. Of course, Avery was thrilled with her little helper's work; the rat had never let her down. Trained in four scents, Miss Marple's repertoire could be expanded as needed. If everything goes smoothly, she'll prove herself...and her nose...again today, Avery thought. She knew the deal with the Monsanto brothers—they had a huge soft spot when it came to homeless children. Probably because they had worked their way up from the streets themselves, Avery bet. Ironic, really, that they were also dealing drugs, which were often the reason kids ended up on the streets in the first place. Avery thought about her friend Paula back home in Independence, Colorado, who had taken in one such runaway into her home that past year. I wonder how they've been over the past few months?
Avery leaned against the wall of the festively decorated barn. She recalled it'd been converted into an exercise room at one point, but was being used now as a reception hall. Try not to look too bored. You haven't been back here in a while and this christening means a lot to Grandpa. Remember, you're not on assignment and this is supposed to be fun. "It's Jaz and Jake's daughter," Grandpa had told her. "Camelia. Cammie for short. It'll be a great weekend, and I'd love to see you." Her grandfather never asked anything of her, so she booked her ticket to Independence as soon as she'd put down the phone. Not sure why he feels presence is necessary, though. He'll just be flirting equally with Miss Minnie and Miss Daisy and barely even paying attention to me. Those sisters don't seem to mind either, which is weird. What are they doing...? Avery spotted a pair of new teenage girls she hadn't met, so she tried to figure them out—a habit born from being a Federal agent. Always trying to profile people as fast as possible. The older one was probably Leslie, Paula's adopted or foster daughter. Avery wasn't sure what part of the adoption process they'd reached. She deduced the girl near Paula had to be her friend Shauna, Nate's daughter.
The girls rushed around the room, filming and taking photos with their phones. As they passed by her, she tapped one of their hoodies, which they had pulled over their clothes due to the crisp temperatures. "Hi. What are you two up to?" Leslie gave Shauna a furtive, guilty look. Shauna did not suffer the same bias. "We're kind of like the court photographers." "Court photographers?" Avery cast a quick glance around. "Did I miss the arrival of the royal family or something?" "She means that we have a job to take as many pictures as possible," Leslie said. A plausible explanation. So, why was Leslie squirming? Strange. "Well then," Avery said. "I'll let you get on with it, then." The girls shared a puzzled look. Avery could have sworn there was more to it but without evidence, there wasn't much to go on. She shrugged. It didn't matter. In twenty-four hours, she'd be out of the cold-ass Colorado mountains and back in California, soaking up the sun. Although California might not have been the best idea; she didn't want to run into Tony. With her left hand, she grabbed the chin-length bob she'd had cut after finishing the job. While she doubted Tony would recognize her as "Maria", his awkward teenage "sister" who was supposed to be in juvie, she didn't want to risk it. Florida was a better plan. She had enough vacation days accumulated to kick back and lay low for at least two weeks.