The Ladies of Harrington House, Book One

Historical Romance, Regency Romance
Publisher: BWL Publishing
Lady Sophie Harrington is not one to abide by society's strictures. If there's one thing she knows, it's that she will not be paraded on the London marriage market in hopes of finding a suitable husband. When a handsome bachelor moves into the neighbouring country estate, she thinks her wedding prospects are solved - all she must do is make the man fall in love with her and convince her parents he would be a good match.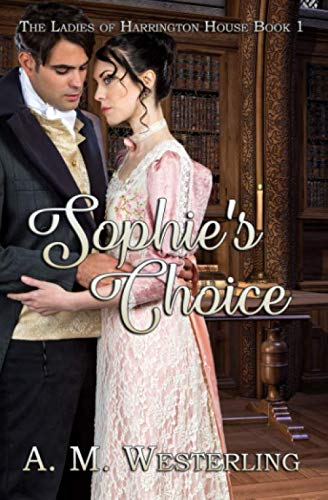 Successful barrister Lord Bryce Langdon escapes London to begin a new legal practice in the rugged county of Cornwall. However, being the object of desire for two beautiful sisters disrupts his life and distracts him from his true purpose for being there – infiltrating a local smuggler's ring.
Can Sophie win Bryce's love? What will she do when she discovers Bryce is not the honourable man he appears to be? Sometimes temptation cannot be resisted…
Other books in The Ladies of Harrington House series:
Leah's Surrender
The Ladies of Harrington House, Book 2
Catherine's Passion
The Ladies of Harrington House, Book 3
Excerpt
Sophie slid off her mare, looped the reins over a convenient shrub and gave the horse a quick pat on the nose. She turned and began the familiar trip down the little path that meandered through the dunes to end up at the gravel and shell beach just on the edge of her family's estate. When she neared the edge of the sea, she held out her arms and tilted her face to the June sun before stripping off her bonnet. She tossed it in the air where the breeze caught it and whirled it about, ribbons and all, before it landed in a frivolous clump on the beach.
She sat down and removed her riding boots and stockings and wriggled her toes with sheer delight. Then she unpinned her hair and shook her head so the chestnut curls spilled over her shoulders and down her back.
"Aaaaaah." Pleasure spiraled through her. "I have missed this so." Feeling a little foolish for talking to herself, she glanced around to be sure that she hadn't been heard. It would not do to have the locals gossip that Lord Harrington's eldest daughter was daft!
Sophie gathered up the skirts of her kerseymere riding habit and crunched across the beach to the water's edge, dabbling first one big toe then the other in the chilly waves. The gravel pricked against the soles of her feet, delightful in its intensity and for the first time in weeks she felt alive, well and truly alive. Not that she hadn't enjoyed her stay at boarding school, particularly the time assisting in the school library, but it had been restrictive, to say the least.
She mimicked the head mistress. "Sophie, you must pour this way, Sophie, you must set a stitch that way, Sophie, mind that your voice is never raised." Mama would be scandalized if she saw Sophie now, poking fun at Miss Smythe and standing bare foot in the sea.
"Your mama would be scandalized." A masculine voice interrupted her, echoing her thoughts perfectly.
She spun around, dropping her skirts into the water. Rueful, she glanced down for it was sure to leave a stain. Then she raised her gaze to the stranger before her. And raising her gaze it was for he stood at least a head taller than her own five foot five inches. Her breath caught in her throat.
He was handsome, to say the least – tall, dark and lean with a rapacious air about him as if he would pounce on his prey at any moment. Judging by his burnished cheeks, tousled black hair and the crop dangling from one wrist, he had also been out riding.
Sophie realized she must look a fool standing there dumbfounded and ankle deep in water. For once in her life she was completely nonplussed.
"You, you …", she stammered, managing to wobble her way back on to the beach without incurring further damage to her habit.
"Yes?" Amusement tinged the stranger's voice.
Bravado was her best option so she squared her shoulders and jutted her chin. "I meant to say you're trespassing."
"I think not." He pointed to a marker just off to one side. "I believe that is the edge of my property. Indeed, you are the one who is trespassing, Miss…?" The question dangled between them. When she didn't answer, he swept forward in an elegant bow. "Allow me to present myself. I am Lord Bryce Langdon. And you?" Again he waited for a response and again she declined to answer.
Oh dear, she knew very well who Lord Langdon was. He'd just acquired the adjacent land. In fact, they were all to meet him this evening for the first time. However, if word ever got out that she'd met him in this situation, her reputation would be ruined. Anger at herself for the foolishness that had brought her here unchaperoned made her tongue sharp.
"You, sir, are an ill-mannered boor." She spat the words at him. "Only an ill-mannered boor would compromise a young lady as you have just done to me."
"I must beg pardon then for I had not recognized you as such." He pointed to the ten toes peeping out from beneath the hem of her skirt. "I dare say your behaviour is sadly lacking."
"You, you scoundrel, how dare you insult me so," she fumed. "You, you -." Her mind went blank, sucked bare by the devastatingly handsome man before her.
"Wretch?" he suggested, the corners of his mouth beginning to lift.
Sophie stared at him for a few seconds, watching the devilish grin threaten to take over his entire face. Her lips twitched and she scowled in a vain attempt to maintain her decorum. It didn't work.
Giggles burbled up and burst free and she began to laugh. He joined her, the sounds of their laughter mingling with the cries of the sea gulls circling above. Bryce Langdon must be an astute judge of character for he was entirely correct in his assessment of her. She detested the rules and strictures of the upper class and it was that rebellious quality that had landed her an extended stay in boarding school in the first place. There was no point in denying it.
"No, you're absolutely right. I'm not behaving like a lady. That is," she hastened to correct herself, squeezing out the words between giggles, "in the sense I do not enjoy sewing and such. Much to the dismay of my mother and sisters, I prefer to be outdoors."
"And I am no drawing room fop so I see we shall get along famously. You have yet to introduce yourself?"
She curtsied. "Lady Sophie Harrington. We are to meet this evening for dinner at Harrington House." A wry expression twisted her face. "Please don't mention to anyone that you saw me here today."
Bryce took her hand and raised it to his lips. "Rest assured, I shall tell no one. Tonight when we meet, it will be as if for the first time." His dark eyes were admiring and warm with promise as he kissed her hand again before dropping it. "I look forward to seeing you again, Lady Sophie Harrington." He said her name carefully, rolling out the syllables as if he savored the cadence. He saluted her with his crop then turned on his heel.
About the Author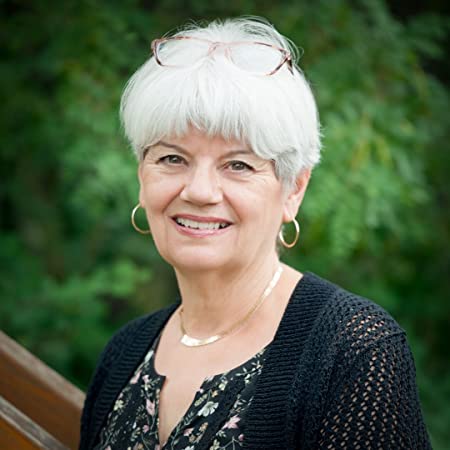 A.M. Westerling, a best selling author for boutique Canadian publisher BWL Publishing, has written ten books, including Barkerville Beginnings, Book 4 of the popular Canadian Historical Brides Collection issued in honour of Canada's 150th birthday. A former chemical engineer, Astrid traded in her calculator, mechanical pencil and spreadsheets for a keyboard, history books and membership in her local RWA chapter. From Vikings to Viscounts, her adventure filled historical romances span the ages. Sophie's Choice , the first book in her Ladies of Harrington House Regency romance series, was a finalist in Long and Short Reviews Book of the Month. She enjoys walks through her neighborhood, spending time in her garden and camping. This avid sports fan loves watching NFL (ballet on the grid iron!) and NASCAR (hot cars, cute drivers!) and cheering on her hometown Calgary Flames and Calgary Stampeders.
Contact Links
Purchase Links